Posted by
Miriam Rubin

on February 26, 2013
I have to wait a few more weeks before I can start my  tomato plants, but tomatoes are always on my mind.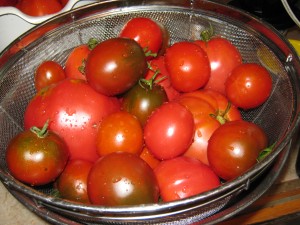 Here is just a little tomato taste from my new book, Tomatoes: A Savor The South tm Cookbook. It's coming out March 4, which a wise person reminded me is a very hopeful date. March forth.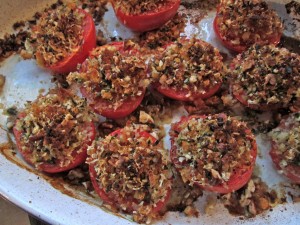 Since the season hasn't yet started, the best tomatoes for this recipe are Romas, the most reliable and flavorful supermarket tomato. Their flavor deepens as they bake and they can stand up to the heat of the oven.
Start by making fresh bread crumbs, mincing garlic and chopping scallions and pecans for the topping.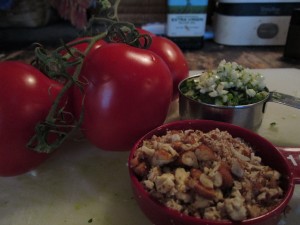 The tomatoes are halved; lengthwise for Romas, crosswise if using a round tomato. Arrange in a baking pan just large enough to hold them. Sprinkle with salt and pepper and brush them with melted butter.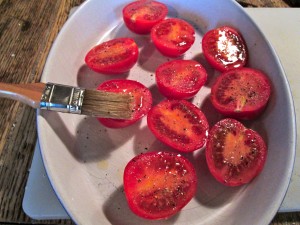 Bake in a hot oven until they are heated and start to look juicy on top, about 20 minutes. Smaller tomatoes will take less time. After baking they'll look like this.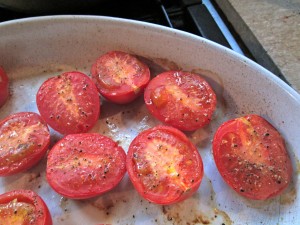 Meanwhile finish the topping.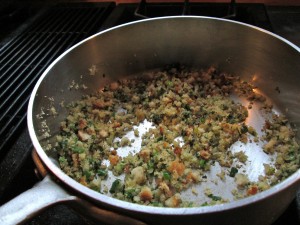 Add the scallions and garlic to the melted butter remaining in the saucepan and saute until tender. Then add the fresh crumbs and cook  until browned and crisp. Because they'll keep cooking in the hot pan, scrape them into a bowl. Stir in the pecans and grated fresh Parmesan and some salt. Spoon the mixture atop each tomato, not worrying if it looks like a little too much topping or falls into the pan.
Return to the oven and bake until the topping is crisp and the tomatoes are tender.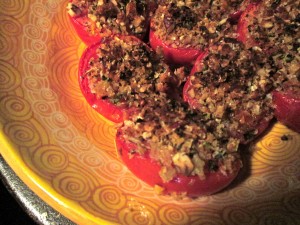 I like these tomatoes hot or cold, and they can accompany anything, roast chicken, grilled salmon, or be the star of the plate. Leftovers the next day are just as good  and I often have them for lunch.
Crispy-Crumbed Baked Tomatoes with Pecans and Parmesan
Makes 8 side-dish servings
8 medium, firm-but-ripe tomatoes, such as Arkansas Traveler or Rutgers, or large Roma tomatoes (about 2 1/2 pounds), halved crosswise
3/4 teaspoon kosher salt, divided
1/2 teaspoon freshly ground black pepper
3 tablespoons unsalted butter
1/2 cup chopped scallions
1 large garlic clove, minced
1 1/2 cups fresh bread crumbs (from about 3 slices crusty country-style bread)
1/2 cup freshly grated Parmesan cheese
1/3 cup finely chopped pecans
Preheat the oven to 425°.
Arrange the  tomatoes cut-side up in a baking dish just large enough to hold them. Mix 1/2 teaspoon of the salt and the pepper in a cup; sprinkle over the tomatoes.
Melt the butter in a medium skillet over medium heat. Brush a little butter over the cut side of each tomato, leaving some in the skillet. Bake the tomatoes, uncovered, until they are hot, and begin to soften, and look juicy on top, 20–25 minutes.
Meanwhile, make the topping: Add the scallions and garlic to the butter remaining in the skillet. Cook over medium heat, stirring often, until the scallions are tender, about 2 minutes. Add the bread crumbs and cook, stirring, until lightly golden and crisp, 3–5 minutes. Scrape into a medium bowl. Mix in the Parmesan, pecans, and remaining 1/4 teaspoon salt.
Spoon some of the crumb mixture atop each tomato half. Bake until the crumbs are browned and heated, 10 to 12 more minutes. Serve the tomatoes hot.
From TOMATOES: a Savor the South™ cookbook by Miriam Rubin. Copyright © 2013 by Miriam Rubin.  Used by permission of the University of North Carolina Press. www.uncpress.unc.edu