Posted by
Miriam Rubin

on August 27, 2014
A few weeks back, along with other food journalists, I was invited to Ohio to learn more about the Nestle Tollhouse cookie we all love and the chips, excuse me, they're called  Morsels. They're the stars of this perfect sweet, crisp, buttery cookie.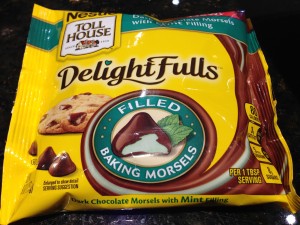 We also learned about new products. Nestles, not content to just have Morsels is now stuffing them with a mint filling, caramel and my personal favorite, a cherry filling. They tasted like chocolate-covered cherries. The kind in the Whitman's Sampler box that are wrapped in foil. I love those, a guilty pleasure.
We tasted other things chocolately as well. Another favorite was an inventive selection of Chocolate Barks, some topped with crushed freeze-dried strawberries, white chocolate and granola, and another, where the chocolate was melted with orange oil and topped with candied orange. And this was just after breakfast!
We also tasted Manhattan Cupcakes each with a tiny vial of small-batch rye whisky and topped with marshmallow fluff, pastry-chef style of course.
Below, Richard Capizzi, the pastry chef of New York City's Lincoln Ristorante in Lincoln Center is carefully cutting his bark into bites. Perfect bites. Pezzo he called them, Italian for pieces.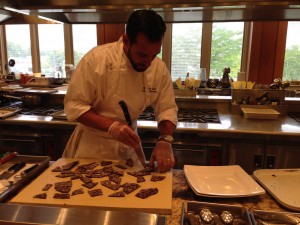 After all those chips and cookies you'd think I'd had enough. But I snagged a bag of Dark Morsels and kept thinking about baking the cookie dough in a larger pan. I wanted it to be soft on the inside, and easier to make than dolloping all those cookies. I also wanted to add a sophisticated flavor, so I played around with almonds instead of walnuts. I added espresso powder to cut down on the sweet flavor. Going for a bitter edge.
First I baked the batter in a rimmed baking sheet, which made a whole lot of delicious squares. But it wasn't quite right. While there was nothing left after serving it to friends, I wasn't quite there. I wanted a soft, melty interior. I wanted a smaller yield too.
I remembered something from the old days in the Redbook Test Kitchen, when we would talk things through, taste and strategize. I miss having colleagues to bounce ideas with. What I remembered was the batter baked in a pie plate, making more of a pie, almost a brownie pie but with out a crust. And that's where I ended up.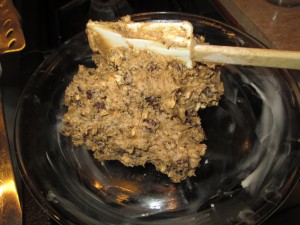 It's pretty simple, you spread the batter in the pie plate and it takes only about 20 minutes to bake.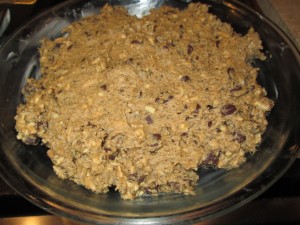 It should be soft and luscious in the center, melty and tender. It's great eaten hot. We took the leftovers to the neighbors so I couldn't eat any more. I can't wait to see what Nestle has cooked up for next year.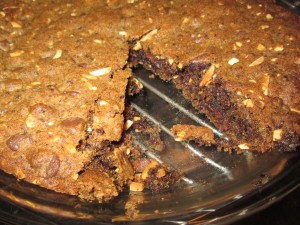 The recipe is here: It ran in the Pittsburgh Post-Gazette as part of a story written by another Chip Camper, buddy Gretchen McKay.
Espresso and Chocolate Morsel Brownie Pie with Toasted Almonds
1/2 cup slivered almonds
1 cup plus all-purpose flour, spooned into cup and leveled off
¼ cup instant espresso powder
½ teaspoon baking soda
¼ teaspoon salt
8 tablespoons (1/2 cup) unsalted butter, softened
1/4 cup packed dark brown sugar
¼ cup granulated sugar
1 large egg, at room temperature
1 teaspoon vanilla extract
1/2 teaspoon almond extract
1 cup dark or semi-sweet chocolate morsels
Preheat oven to 350 degrees. Butter 9-inch glass pie plate.
Put almonds in small baking pan. Bake 10 to 12 minutes, while oven heats, stirring once, until lightly browned. Tip out of pan and let cool. Chop coarsely.
In medium bowl, whisk flour, espresso powder, baking soda and salt. In large bowl of electric mixer, at medium speed, beat butter until creamy. Beat in sugars until fluffy; scrape sides. Beat in egg until blended. Beat in extracts (mixture may look curdled).
Add flour mixture all at once, mixing at low speed until almost blended. By hand, with rubber spatula, fold in chocolate morsels and toasted almonds. Scrape into prepared pie plate and smooth top.
Bake 20 to 22 minutes, until just springy to the touch. You want to underbake this a little. Transfer to wire rack to cool a few minutes. Serve warm.
Makes 6 servings, maybe