Bio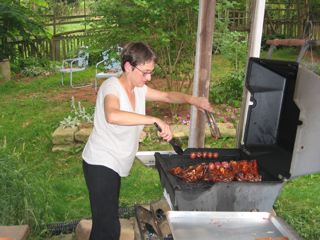 This is me at the grill, one of my favorite summer activities. My friend Jennifer McLagan took the photo one summer when she and her husband visited. It was a lovely visit.
But I do other things besides grill. I'm a trained chef with a degree from the Culinary Institute of America. I was the first woman to work in the kitchens of The Four Seasons Restaurant. I worked in restaurants for about 10 years before making the switch to food writing. I worked at Redbook Magazine and later was the Food Editor at Weight Watchers Magazine.
Now I work as a freelancer, frequently writing  food features for the Pittsburgh Post-Gazette. I also write a seasonal column for the paper, called "Miriam's Garden."
I have contributed recipes to many books and magazines. And I have one book of my own, Grains. But I'm hard at work on another.